MARKUS DRAPER "INGE ZU FUSS ZUR ARBEIT"
October 3rd 2015 – January 31st 2016
Kulturhistorisches Museum Görlitz – Kaisertrutz
In 'Inge zu Fuß zur Arbeit' (Inge goes on foot to work), the artist Markus Draper reflects on everyday life in the GDR in the 1980s. This multimedia installation, incorporating painting, sculp- ture, and film, is structured in four scenes. It inves- tigates the impact of architecture as a tool for social formatting; and it asks how faultlines spanning multiple generations, which in the 1980s began to shift under the pressure of disparate understandings of life, came to propel social transformations. Draper's artistic work draws on his extensive research into these issues.
---
SCENE 1: BACKENBRECHER
The large-format video projections of a Backenbrecher (jaw crusher) – a machine used to pulverise construction debris – introduces the exhibition. The crushing machine serves as both a symbol of the authoritarian state and an embodiment of processes of working-through, of the 'digesting' and 'spitting out' of history.
videostills from: "BACKENBRECHER", 2015, 3-channel projection with sound
---
SCENE 2: DER CHRONIST
The second scene presents a series of paintings based on diaries that Markus Draper's father kept in the 1980s. As a lead urban planner, his father played an important role in Görlitz's recent history. In his singular chronicle he recounts over a decade of his life. Draper has rendered ten pages of the diary as paintings.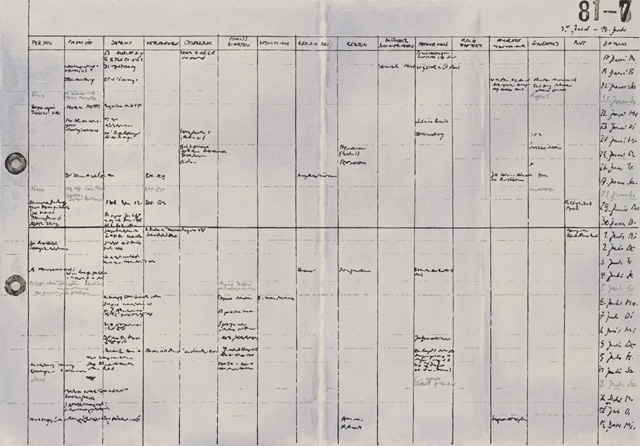 from the series: "DER CHRONIST": "81/7", 2015, oil on canvas, 52 x 74 cm
---
SCENE 3: GRAUZONE
The third scene engages those former RAF terrorists who left the organisation in the early 1980s and went underground in the GDR. The Ministry of State Security (Stasi) provided them with new identities, flats, and jobs. Here, Draper reconstructs the buildings where they lived as large-scale metal sculptures. They represent the everyday environments of a chapter in East-West German history that to this day remains fraught with myth.
from the series: "GRAUZONE": "BERLIN MARZAHN, ROSENBECKER STRASSE", 2015
---
SCENE 4: DRAMA KIT (DER TURM)
For the fourth scene, Draper has translated into the medium of painting photographs of the set of the film adaptation of Uwe Tellkamp's novel "Der Turm" (The Tower). The film was produced several years ago in Görlitz and brought Draper back to his own biography. The painting series serves as a point of departure for discussing allegedly realistic representations of history.
"ZIMMERECKE", 2015, oil on canvas, 60 x 90 cm
---
MARKUS DRAPER was born in 1969 and raised in Görlitz. He studied from 1991 to 2000 at the Hochschule für Bildende Künste in Dresden, at Central Saint Martins College in London, and at Columbia University in New York, and was a master student of Professor Ralf Kerbach. Draper is a recipient of the Marion Ermer Prize (2001) and the Vattenfall Art Prize Energy (2006) as well as fellowships from the DAAD (1996), Philip Morris Foundation (1999), the Pollock-Krasner Foundation (2009), and the Stiftung Kunstfonds (2013). He lives and works in Berlin. His art has been shown in numerous one-person and group exhibitions in Europe and the United States.
(more information about the artist at www.markusdraper.de)
---
photo credits: Hans Georg Gaul, Berlin
Courtesy the artist und Kulturhistorisches Museum Görlitz